BEING PART OF THE TRAVEL INDUSTRY, we LOVE travel hacks that will make life that much easier. Especially, when it comes to packing. Packing is never easy. It is actually very stressful, and we never know if we packed enough or we always tend to overpack. With our little tricks and tips, we will be able to help take some stress off of the whole idea of packing.
PACK DIVERSE ITEMS
If you're going on a week trip or a a month long excursion, there is no reason to bring an outfit for every day! That takes up too much room in your luggage and you're more than likely not going to wear all those items. Your best bet is to pack items that are diverse. Items that you can mix and match and also dress up to dress down to save space. That little black dress looks great with heels or great as a bathing suit cover up. The button down collared shirt can be worn causal or worn out to a fancy dinner. Either way, you can wear an article of clothing more than once, styled differently, for different occasions and still kill it on your vacation!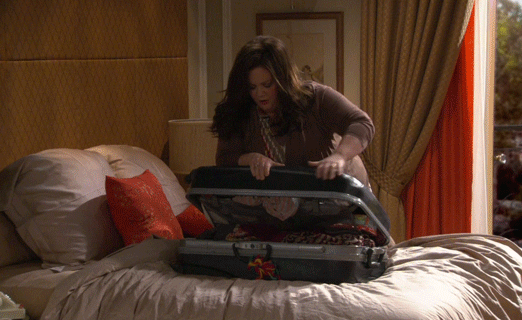 ROLL YOUR CLOTHES
If you're like me, then you are neurotic about wrinkled clothes! Rolling your clothes in your suitcase is great for saving space AND reducing wrinkles. (Tip: Buying travel sized Downy Wrinkle Releaser keeps your clothes fresh and dewrinkled. HIGHLY recommended!)
PACKING CUBES ARE A THING
If you're an overly organized person when it comes to packing; like you keep all your shirts folded together, socks and underwear together, pants separate, then you need to invest in packing cubes. You can get a set of 2-8 pieces, all different sizes for cheap on Amazon. They keep you completely organized, easy to pack and unpack, and saves tons of space by keeping your items compact
DRYER SHEETS KEEP YOU FRESH
Once again, if you're like me, then you can't stand that smell of plastic on your clothes from your luggage when you unpack your stuff. So, A little trick is to pack loose dryer sheets throughout your luggage; in your shoes, between clothing items, in pockets, WHEREVER YOU WANT! It keeps your clothes fresh and smelling like clean laundry.
PACK ITEMS IN YOUR SHOES
This is optional, but if you are packing a few pairs of shoes, then you can pack your undergarments inside your shoes, with dryer sheets. Socks, bras, underwear, whatever you are able to roll up or stuff, it saves space by packing those smaller items into your shoes, if your shoes are going to be taking up space.
PLASTIC WRAP AND ZIPLOC BAGS ARE YOUR BEST FRIEND
These 2 items are key for keeping your liquids and toiletries safe. If you are bringing bottles (shampoo, conditioner, lotion, sunscreen, etc.), then wrapping a small piece of plastic wrap around the lid, is great to ensure no leakage. Also, for extra security, place these wrapped items in a ziploc bag.
SAVE YOUR SUNGLASSES CASE
Have you ever had one of those moments, where you need your phone charger or headphones and when you go to take them out, they're all tangled? Yeah. If you said no, you're lying. So, to keep those pesky wires organized, you can take an old sunglasses case, roll your wires separately, stick them in the case, and because of the soft fabric inside and tight space, they won't roll around and get tangled. Plus, they are easy to access and tiny enough to not take up too much space.
PILL CASES AREN'T FOR PILLS ANYMORE
Just like the wires, it is the same thing with jewelry. Because of the chains, they all get tangled, then they get tangled around your dangling earrings, and chunky bracelets. Save yourself the stress and get a daily pill container and pack each item in the separate slots. It keeps your jewelry organized and you less stressed that you have to spend a half hour untangling the chains.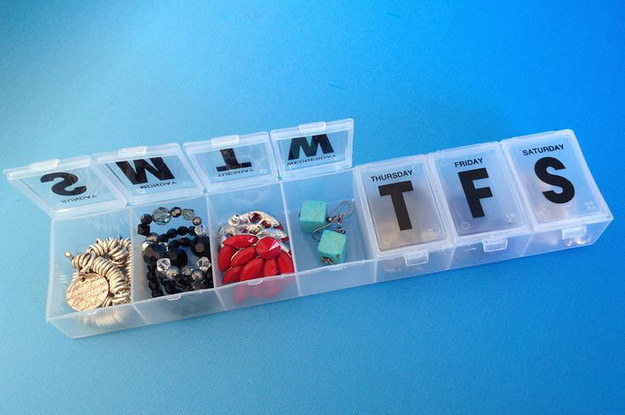 SAFETY FIRST
Health and safety is very important when it comes to traveling. Nothing is worse than forgetting your stomach medicine or fever reducer or if your clumsy, tripped, and cut your hand; you are going to need bandaids. Make a DIY (do it yourself) first aid kit. This can consist of: band aids/gauze pads/medical tape, Neosporin, travel sized tissues, pain reliever/fever reducer, prescribed meds, motion sickness medicine, allergy medicine, eye drops (just in case), and insect repellant. All these items can be found in travel sizes. It is better to be safe, then sorry!
PACK YOUR ESSENTIALS TOGETHER
Be smart and pack your essential items together in your carry on, for easy access. Your wallet (ID/passport, credit card, etc.), phone charger, headphones, laptop, book, sunglasses, and medications/med kit should all be kept together in your carry bag, so that it easy to get to and organized.
With these tricks and tips, we can help make traveling less stressful and keep you organized!